5 easy steps towards your own map blog

Just register, it is free.

choose a map

Choose a map from our wide selection e.g Australa, New Zealand, World, ...

create a place

With just one click you can create a little dot flashing your current position.

write a story

Write down your travel experiences.

upload photos

Upload photos and give your friends a reason to be jealous!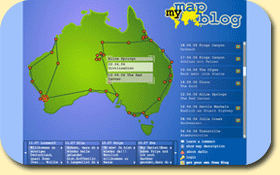 powered by: Ausstellungsgestaltung und Interaktive Medienstationen finke.media