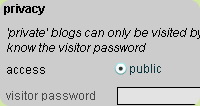 I've been asked from time to time if there is a possibility to allow access to ones blog only for a certain usergroup. Today a beta of "private blogs" has started. In the 'settings' menu chosse the register 'account' and switch your blog to private if you like, then you set up a visitor password. This password you've to mail around to your readers and they'll be able to read your blog.
Private blogs do (currently) have the following restrictions: RSS-Feeds as well as email-newsletters are not supported and the alternative HTML-version (which is used for visitors without the flash-plugin) is not avaiable.
In case you have any questions or problems with this new feature don't hesitate to contact us.